April 18th, 2018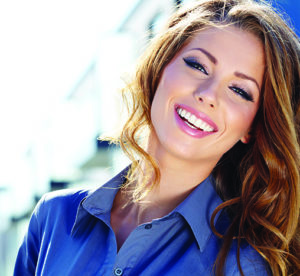 YOU'VE PROBABLY HEARD LATELY ABOUT THE IMPORTANCE OF MAINTAINING A HEALTHY PH LEVEL—hence health food store shelves flooding with alkaline waters, alkalosis foods and other products that help neutralize the body. You may not have heard how the importance of pH balance starts in the mouth.
If you've wondered why one kid who has poor oral hygiene never gets cavities, while your kid who brushes twice a day and sees the dentist
biannually is plagued with cavity after cavity, the culprit is likely pH. A healthy pH for saliva is in the 5.6-7.9 range. If the pH falls to 5.5 or below, there is a high risk of tooth decay and cavities, because bacteria thrive in an acidic environment.
What's more is that acidic saliva can be detrimental not only to oral health, but overall health. A bacterial imbalance in the mouth can result in type 2 diabetes, heart disease, kidney and lung complications, obesity and more. Many people simply don't know what they are doing wrong and become frustrated that they can't get theirs or their kids' oral health in check, and fear the long-term implications.
Typically, a dentist will treat a cavity directly, but not the bacterial imbalance in the mouth. This is a reactive and short-sighted solution that allows the cycle of decay to continue. The CariFree assessment and elevated pH products directly address the decay-causing acids that are a feeding bed for bad bacteria.
"The CariFree assessment is a salivary test that gives an idea of a patient's oral environment by looking at many different aspects of their biochemistry and DNA," says Linda Golden, DDS. "We are then able to use the results to design a comprehensive oral protocol that can combat pH-related and other dental issues in a holistic way." CariFree assessment and pH products are mostly geared toward children, but they can also prove beneficial for patients with dry mouth, acid reflux, depression, and other conditions.
Non-abrasive and safe to use every day, CariFree elevated pH products are highly effective and scientifically proven to prevent cavities through remineralization. Dr. Golden describes that patients may use the products that fit their lifestyle, but some patients may prefer to opt for a more pure and natural approach. Being a holistic practitioner, she has extensive knowledge and expertise to design a customized program.
"Dentists should be giving not only oral health guidelines, but nutritional and lifestyle as well," Dr. Golden shares. Some alternatives to the products presented by CariFree that she suggests to her patients include alkaline water, coconut oil pulling, xylitol, lemon water, ozone and sodium bicarbonate (baking soda).  She also advises a healthy diet of alkaline foods, like fruits, legumes and vegetables; and reducing caffeine drinks, alcohol, sugar, meat and processed foods, which are all highly acidic.